Set up in early 2001, we are a boutique olive grove nestling amongst the southern foothills of the Strathbogie ranges in North Eastern Victoria, Australia.


Our aim is to produce the highest quality Extra Virgin olive oil, and an exclusive range of table olives.
To achieve this we embrace and implement organic growing principals and management.

We maintain a fully self sufficient farm, supplying all power through a solar power system and water collection from farm roofs.

Our olives are grown naturally with no pesticides or sprays, using only certified organic liquid seaweed fertiliser twice annually.

Oil olives are hand picked at various stages of ripeness and transported within hours to the processing plant for crushing.

Table olives are hand picked, immediately washed for ten days in fresh rain water, after which brine is applied and the olives left to pickle in their own time.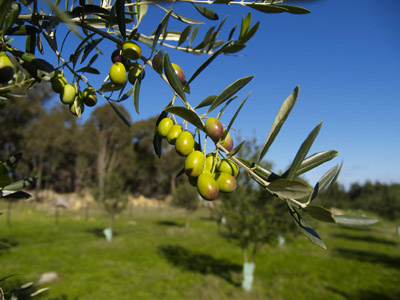 In 2011, we were awarded a Gold Medal & Best In Show
for our table olives at the prestigious Golden Olive Awards held in Nth East Victoria.


Catch up at our
facebook page